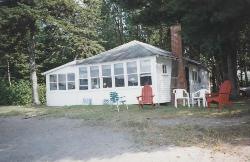 The Lothrop Cottage has the best view of the Lake and has a full sandy beach with added privacy due to an empty lot beside the cottage which is owned by our family. The cottage has three bedrooms and a central living room heated by a Vermont Castings stove. This light-filled cottage is great for keeping an eye on activities on the Lake.

The Cottage is ideal for families. The cottage has one queen, one double, and two single beds. The bathroom has a tub and shower. The kitchen has an attached screened-in mud room which looks out into the woods.

COST: $1250 per week, including 9 percent Vermont Hotel Tax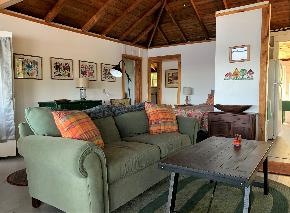 The living room is spacious with an open plan that links to the kitchen and screened in porch. It has a Vermont casting stove and lots of firewood so can keep the whole cottage nice and cozy.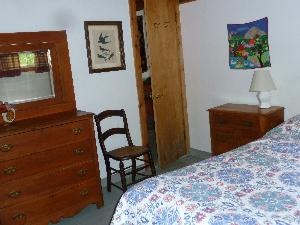 There are three bedrooms with two queen sized beds and one a single bed that looks out on the lake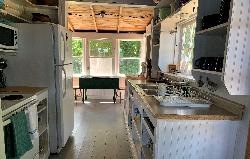 The kitchen was newly remodeled in 2020 and is fully equipped with lots of light and views out to the lake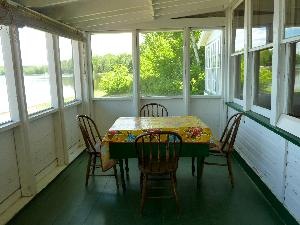 The screened porch offers great views of the lake and a wonderful place to have meals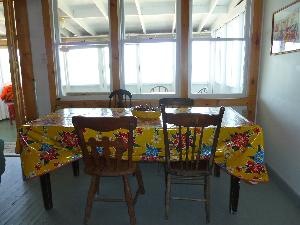 The inside dining room table looks out at the lake so dining can be inside or out on the screen in porch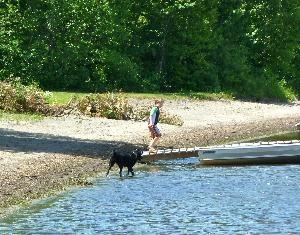 The beach at Lothrop as with all the cottages is sandy, private, with dock and boat and the water shallow a fairly long way out making it safe and yet still good for swimming