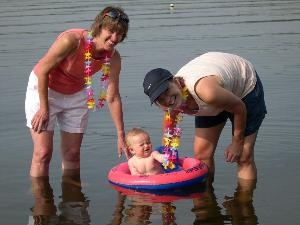 The following are comments that were left in our guest books by our cottagers

"Fabulous week at Lake Salem with my family. We saw 3 loons, 2 eagles, 1 bobcat and 3 deer. Our days were filled with swimming, fishing, floating, boating, reading, drawing, and board games. We made our tradition outing to Evansville Trading Post, The last night we were here my family and friends came by for a pot luck dinner. The night ended with a bang, some laughter and good bye tears. Until we return, smiles, peace and blessings."

The Lundins Family

"Great weather, no rain at all, good fishing, the dogs enjoyed the water. We saw a bald eagle having breakfast on the sand bar, great blue herons and many geese. 2012 marks my 50th year here at Lake Salem Cottages. We love it here!"
The Fullers.

"We had a wonderful week here at Lake Salem again this year. We enjoyed some nice sunny days with lots of swimming. The fireworks around the Lake on the 4th were fantastic!"
The Denault Family, Montreal

"This was our first visit to Lake Salem and we had a great time. Beautiful sunsets and delicious breakfasts at the Brown Cow. We hope to be back next year"
The Badour Family, Montreal

"We had an enjoyable vactaion this year at Lake Salem. Scott and Liam took the Bass tracker to Derby Pond and Lake Memphremagog in search of fish. Duncan took his kayak to Little Salem and the Clyde River and caught a few bass. As always, the weeks go by too quickly and we are sad to return home. Until next year."
The Brittons

"Our fouth summer here but our first with all five kids!!!. Alison(8), Anne(6), Claire (4), Christian (2) and Darcy (2) had lots of fun swimming, playing in the sand and going for rides in the rowboat. Sunny all 7 days. See you next summer"
The Bender-Vicents

"We just wanted to say thanks again for another fabulous vacation. They just keep getting better and better. The weather was great and it was such fun to be there with all of our family and friends at the same time. We appreciate all of the effort and time that went into organizing that for us. We were really surprised to hear of the crazy flooding that happened there this spring. We saw a bunch of photos from the Johnsons and couldn't believe the water levels. I can only imagine the work that went into getting the cottages back into shape for the renters. We appreciate the work that Rob, Lewis and John did. Lewis said they worked from 7am-9pm six weeks straight. Unbelievable!"

Karen Hutchinson, Summer after the great flood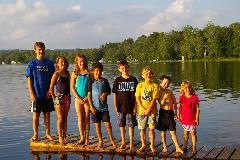 "I shared the Ainsboro cottage last week ) with my friend Erin and I wanted to let you know how much I enjoyed being there in your little slice of paradise. The sun gods were benevolent after a very rainy summer and we tried to soak up every bit of it while reading, swimming and just relaxing. It's wonderful how your family has continued to maintain the cottages, prevserving your own memories and those of countless visitors as well as creating new ones for future vacationers." Ann-Carol Moffett , Essex Juntion Vermont

"We had a fantastic vacation here at Lake Salem. The weather was perfect. The sky was full of huge billowing clouds over the lake-spectacular. The evenings brought a parade of beautiful sunsets. Our cabin was a cozy home away from home to return as we explored the scenic areas of this great Northeast Kingdom. We successfully rowed across the lake and back two times. I loved the rowing. We all loved the boat rides, the Play at the Opera House in Derby Line, feeding the ducks, seeing great wildlife, herons, loons, geese, sand piper, and fish. The accommodations were great. We had everything here we needed. Lake Willoughby, Seymour Lake and Island Pond are great lakes to visit too.
PS. Eastside and Jennifer's Restaurant were fantastic"

Mayo-Bursson-Hodsdon, Windsor, VT, Gill, MA and Bellows Falls, VT

"Wanted to say how much I enjoyed my week in VT. Lewis was a big help. Was a real trip down memory lane and was surprised to see it looks remarkably like it did. I hope to do it again next year, probably the same time. Fishing was decent, my dog enjoyed the lake. Thanks."
Ted Hollidge, Newell Cottage, Maine

"The Lahan's spent our third good year here at Lake Salem. Cousins from Virginia re-united with Vermont cousins amid great squeals of laughter and memory making."
The Lahan's, Ainsboro Cottage, Memphis, NY

"We had another great week—it went as fast so fast as always. My three year old son is beginning to love this lake as much as we do. He had a great time playing with all of his cousins in the cottages on either side of us. The fishing was GREAT this year. For the first time in 32 years since I was a young child we were able to catch nice bass from the dock. I've never seen the water level so high. Look forward to returning."
Scott, Lara and Maxwell Hutchinson, Ainsboro Cottage, Ottawa, Canada

"We are so happy to be at Lake Salem again! Steve caught and released lost of fish including a trophy size small mouth bass. Once again, he used a fly rod and flies for most. We saw a lot of wonderful wildlife: loons, herons and the cute ducks. We were thrilled to see a bald eagle twice. Most days were spent on the water. We did find time to attend Derby Line Day, which was a lot of fun. We also visited the farmers market in Newport, St Johnsbury and Island Pond for delicious fresh veggies and blueberries. We are leaving rested and refreshed. We're looking forward to returning next year."
Barbara and Steve Mosely, Ainsboro Cottage, Trenton, NJ

"Unfortunately, this wonderful vacation here in Derby, Vermont is coming to an end. My family and I had a wonderful time. Your cottage here is fantastic! I love the throw rugs and vintage blankets hanging from the wall. It gives the place a great feel. We took a trip up to the gorges over Willowbye Lake. It is absolutely gorgeous there."
The Mahegan Family, Ainsboro Cottage, Danvers, MA

"Thank you Rob, Julie, Greg, and Madeline for all you do to make it possible for us to stay at Lake Salem. I believe this is the 50th year of being here. My father started renting from Isabel and Wayne when I was 8 years old and I am now 58. A very special thank you to Lewis. He came everyday to check on us and was most helpful. Lots of my relatives rented cottages around the lake—so we had a great time being together. The water level was very high this year- but we managed many swims in the river Bruce saw the bald eagle, osprey, great blue herons etc."
Jean and Bruce Tischler, Lothrop Cottage, New Rochelle, NY

"Vermont is so beautiful!! I love the mountains and the trees here. It is really relaxing. This vacation was just what we needed to break away from the busy New Jersey life we're used to. We did a lot of fishing and caught some pretty big small mouth bass. The best place to catch them is in the river. Also special thanks to Lewis. He was very nice and always helpful. "
Erica, Chris, Chris and Particia Black, Lothrop Cottage, New Jersey

"We have had a very relaxing two weeks - cozy nights in front of the fire and nice days sitting in the sun or playing in the lake. Some highlights:

· A big heron tug war all across the sand bar

· A fabulous show at Bread and Pupper in Glover

· The best saba fresca I have ever had from Red Sky Trading Co Glover

·The most gorgeous sunset I have ever seen. Oh to be a painter or photographer. Streaks of white, blue, purple and pink across the sky and reflected on the lake

· A wonderful bonfire to sit in front of while picking out constellations in the amazingly clear sky

Hmmm, have I got them all? I doubt it. Every day was great"
Catherine Cuddihy and guests, Silver Acre Cottage, Medford, MA


"This was our 30th Anniversary of our last visit to Silver Acre in 1976. There are quite a few great improvements to the cottages. This was a very nice week. Caught a large small mouth bass in the river 2 ½ lob 17 ½" and son Chris caught a good sided pickerel in the lake."
Eleanor Barry, Jean and Chris Wilson, Silver Acre Cottage, Syosett, NY

"There was plenty of bird watching. Some sightings were a black tern, pied bill grebes, one immature and two mature eagles, American bitten, and a loon to name a few. Had a few nice fish Top spots go to Steve with a 16 ¼" small mouth bass caught in the river and Kath in first place with a nice 22 ¼" 4 ¼" walleye. The girls out fished they guys this year. As always our time here has gone by too fast and we're looking forward to next year already."
Nancy, Steve, and Lori (also Tank and Abby) LaBombard, Silver Acre Cottage, Bennington, VT

"We enjoyed a fabulous week at Lake Salem. The weather was the best we had in years. Liam(10) and Duncan (8) learned how to water ski, too! We also enjoyed lots of tubing and the "ski Bob". Of course, the fishing was fantastic. Scott, Liam and Duncan to Little Salem and caught tons of bass, walleye and perch in their secret fishing spot. The week went by so quickly, we cannot believe it is over already! We cannot wait to come back next year!."

Scott, Wendy, Liam and Duncan Britton, Newell Cottage, Manchester, NH

"Another fantastic holiday at Lake Salem. This year we came for only one week. It went so quickly. The weather was hot and sunny except for our last day that was overcast and cooler. We had our usual treasure hunt, summer Olympics and our newer tradition of "Mexican Night" We've fished, relaxed, floated, read and had a beach fire every night. We will see you next year." The Pednaewebs Ethan (14), Ggmm(11) and Will (9). Newell Cottage

"Nothing is as peaceful as Lake Salem no matter what the weather, See you next year for another week of sanity restoration." Erin A

"We spent another beautiful two weeks here on Lake Salem. Swimming, rowing, reading, puzzles and games. Sad to head back to our busy schedule. Pat and the twins enjoyed their daily walk to the end of Hayward Rd. On the way back they always stopped at the Char-Bo store to pick up a newspaper for Mom and Beverley. We saw loons, herons, minnows and a doe with her 2 fawns".
The Bender /Vincents

"Another great week of sun and books. We had a couple of wild storms at night, torrential rains but clear by morning. Still no moose sightings but there is always next year. We had to track down Cinta's raspberry pies and Twice Told Tales since they had both moved locations, but it would not have been a complete trip without them! As always, leaving relaxed and refreshed and planning next year!"
The Moffetts

"As I write today I cannot but notice that this book is almost completed—filled up with many family memories. Our earliest entry was back in 2001 when our boys were only five and three years old. Now they are nearing adulthood with busy lives of their own. Scott caught a huge small mouth bass in Shadow Lake and Liam caught a "monster" in Derby Pond. Duncan was able to catch a few over in Little Salem and the Clyde River. A peaceful, restful vacation. I will miss the view of the beautiful lake. Until next year."
The Brittons Wendy, Scott, Liam (18), Duncan (16) Auburn, New Hampshire, Newell Cottage