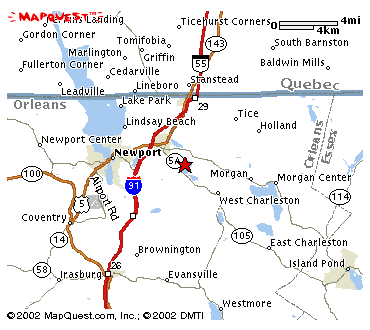 The following information may prove helpful in preparing for your time at Lake Salem Cottages.

Getting There
The normal route is to get to Interstate Highway 91 going north. Our cottages are off the Newport/Derby Exit number 28. This exit is about five miles south of the Canadian border. At the stop sign off the Exit, head North on Route 5 towards Derby Center. At the next stop sign intersection (about 1 mile), take a right on Route 105/5A down Derby's main street towards West Charleston. You will start to see Lake Salem on your left. At the far end of the lake take a left on Hayward Drive (about 3 miles from Derby Center). Follow Hayward Drive down the hill across the bridge (Clyde River). The first driveway on your left hand side is for Silver Acre (closest to the River) and the Lothrup Cottage. The second driveway is for the Newell Cottage (to the left) and Ainsboro cottages (straight ahead).

Street addresses are 191 (Silver Acre and Lothrop) and 201 (Newell and Ainsboro) Hayward Road.

When will the cottage be ready?
Rentals are from Saturday to Saturday. To allow the cleaning crew time to prepare for the next renters, we ask that cottagers depart no later than 10am Saturday morning and arrive no earlier than 4pm. Upon your arrival, the keys will be in the door.

Extra Guests There is a $25 per night fee for individuals staying at the cottages that are not a part of the immediate family. This fee is to compensate for the extra utility costs and demand on the lake systems. We will request the name, age, relationship of everyone who will stay at the cottage to limit extra overnight guests. Regrettably we cannot allow campers, tents, and mobile homes to be parked on the grounds. We cannot accept more than 6 people per cottage nor more than 3 cars parked overnight.


What to Bring. In addition to those items you'd normally bring on vacation, you will want to remember the following and pack accordingly: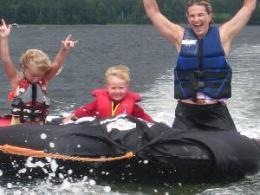 Linens - Cottages have pillows and blankets. Please bring bed, bath, beach and kitchen linens and pot holders, as well as trash bags and a flashlight.
Beds
Silver Acre: 2 queen and 4 twin beds
Lothrup: 2 queen and 2 twin beds
Ainsboro: 1 queen, 1 double and 3 twin beds
Newell: 3 double and 4 twin beds


Cooking – If you have a lively pallet, bring your favorite spices . Each cottage has a microwave. A charcoal grill is provided. You will need to bring charcoal and starter fluid.

No Smoking - Cottages are non smoking

Water - The water in the cottages is lake water. There is fresh spring water in a tap right outside each cottage that comes from our own tested spring.

Bathrooms - The cottages have hot water showers. The Lothrop, Newell and Ainsboro also have bath tubs.

Laundry - There is a laundromat in the town of Derby.

Entertainment – Cottages have puzzles, a radio, and a fireplace with plenty of wood. Cell phones may work in the region depending on your carrier. There are no phones in the cottages. The beach and lake are great attractions for kids so remember to bring sunscreen, sand toys, and beach towels. The lake gets deep very gradually so swimming for children is ideal. The local newspapers, the Newport Daily Express, and the weekly, The Chronicle, provide listings of local events for the week.

We do not provide internet service. For those with hot spots and data usage, there is good internet reception.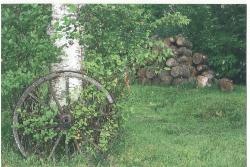 Electronic Equipment. Personal electronic equipment can be brought to the cottages although we cannot be responsible for that equipment. One power strip with circuit breaker per cottage is provided. The North East Kingdom gets thunder and lightning storms periodically during the summer which can cause power surges. If you do bring electronic equipment, we recommend bringing a power surge protector.

Identification – If you plan to travel into Canada, please bring a passport as you will need it.

Consideration of other cottagers. Cottagers often enjoy sitting out on the beach at night. Out of consideration for other cottages, we do ask that there is no loud noise after 9:00 pm. Consistent with Vermont laws, fireworks are prohibited.

Use of firewood We are happy to provide firewood for the wood stoves and fireplaces in the cottages. Beach fires are prohibited.

Recreation – Each cottage has at least 100 feet of private shoreline frontage. Cottages are equipped with 12 foot aluminum fishing boats and at least 2 adult life preservers. Vermont law specifies that each person in the boat has a life vest. We can provide additional vests if needed.

If you'd like to bring your own boat, there is public boat launch close by the cottages.

For outboard motor rental, you can contact:

Byron Wright at Wrights Marine and Welding (802) 766-5091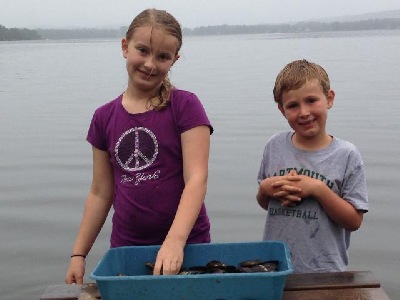 Pets – We do allow pets but ask that pet owners clean up after their pets. Please do not allow pets on the furniture and in general be a responsible pet owner.


Garbage

Garbage containers are located behind the cottages. Garbage is picked up weekly

Water

The water in the cottages is lake water. There is a tap to fresh and drinkable spring water outside the cottages.

Emergency Contact Number
Phillip and Michelle Quijano are our local care takers. Michelle's cell phone is 802-673-8150 should anything come up. They will ensure that any questions or problem that comes up once you arrive are dealt with right away.

What's Near By?
We are located about 3.5 hours north of Boston and 1.5 hours south of Montreal. The towns of Derby Line and Newport, each five miles away, offer restaurants, grocery store shopping, golf courses, and churches. The Green Mountains offer countless hiking trails and Northern Vermont is a bounty of fishing. There is a Visitor's Center in Newport that can give specific suggestions based on your interests.


How the Cottages Should Be Left
We request that cottagers leave the cottage as they were found as we have limited time between cottagers to fully clean.
· No food left in the refrigerators
· Beds made as found
· Sweep all floors
· Shake out the rugs
· Leave the bathroom clean
· Leave the sink clean with no dirty dishes
· Clean up any pet hairs


Deposits and Payment

$200 non-refundable deposit is required at the time of your reservation and the balance must be paid in full by May 1. Payment must be in US dollars. Deposits and final payment checks should be made payable to: Robert Page and be sent to 809 Shrader Street, San Francisco, CA 94117. We will send you a receipt of payment. Cancelations made more than 30 days in advance of your reserved week(s) will be fully refunded, less the deposit. Cancelations within 30 days are non-refundable.

There is a $200 refundable damage deposit to be paid with final payment due May 1st.

We accept PayPal using the "pay a friend" option, otherwise, there is a fee for this service. If you want to pay using PayPal please email DPKrpage@aol.com